Power Searching with Google
Power Searching with Google
To know how to search the web is a very important part of our everyday life. However, over 95% of the users have no clue as to how to use it to its full potential. We have all sorts of modes, means and methods existing to improve our online searching experience. If we know the right ways, we will save a lot of time and money. For instance, we use far too many words to do a search which in turn only confuses the search engine; they are ways to be specific in order to get the best results in less time.  So when I heard or rather when I saw that Google was offering a free-of-charge virtual course for a limited time only I simply could not resist.
It involved six 50-minute interactive classes spread over two weeks along with a pre-class assessment, video's for all the six classes explaining how to "solve real, daily problems" using advanced search features which I was never aware off followed by Mid-class assessment after the first three classes and a Final-class assessment after you finish all the six. Each class or topic was followed by an activity like a mini test. And the best part is there's even a certificate at the end of it (see).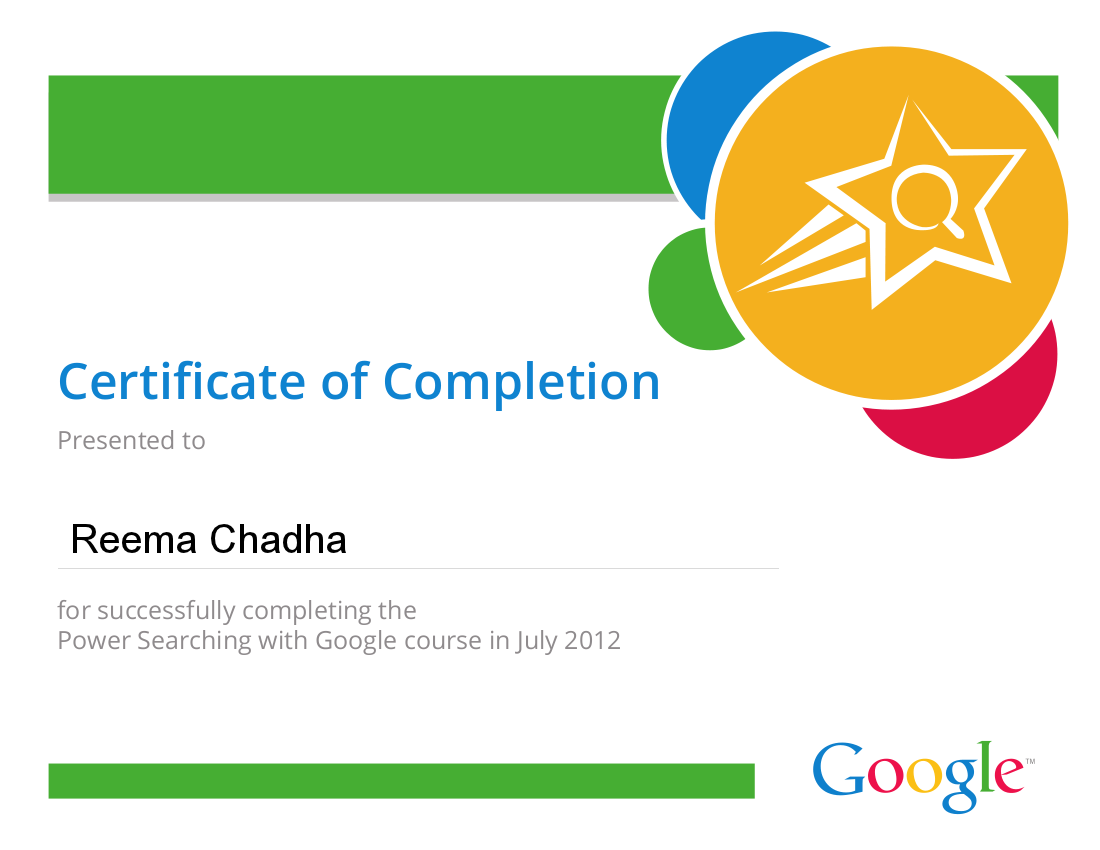 So if you are game for learning new tips and tricks to make your life easier, I would encourage everyone to use the power search tool to find exactly what you are looking for on your first search. It has been designed for all ages. The Power of 30 Search Engines in one search tool. Just Wow!
And now to break it down to a few simple things I learned:
There is a lot more to Google than the eye can see just on the screen.
Google images, can be refined by color, type etc. – yes we all see the blocks of color on the search page but we never used it.
You can always check the information or the reliability of the news by refining by date.
You can limit the search by file type: jpg, pdf, xls, doc, gif, etc.
Google's language translation makes it very easy to find and read info from other countries or topics for everyone.
It lets you quickly glance at the weather, the currency rates, measurements, flights, locating maps, finding books, local movies, tracking shipments, converting or calculating…
I also discovered that Google totally ignores capital letters so the search terms "History of Kuwait" and "hisTOrY oF kuwaiT" would bring up exactly the same results.
It's never too late to try and learn things you don't know.
Thank you Google for going the extra mile to make sure the virtual course was delivered in a very easy-to-do and understand manner. 😉