Copper Chimney
Copper Chimney
Well i have been postponing my visit to this newly opened (almost 5 months ago) Indian restaurant located at Bidaa known as "Copper Chimney". It's a franchise from India and finally I thought to myself we have got a new addition to the already existing Nice – Semi Causal Indian Dinning restaurants.. So here i go to enjoy and savor our authentic Indian cuisine..
To begin with I must admit the staff and the service were both excellent something that I have really been missing out, on my recent visits to various restaurants … However, I wish I could say the same about the food.. Normally it would really take someone to Piss me Off for me to really give a bad review about the place.. But excuse my honesty.. I just have to say its a NO NO for me and to top it off the exorbitant prices!!!! Did I just eat with a golden spoon ??? Not that i hadn't been warned about the place but then thanks to my nature I like to give everyone the slight benefit of the doubt.. andn choice of food..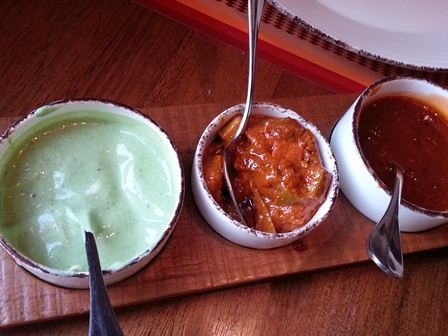 Indian Condiments (Chutney, pickles and Mitti or Imli Chutney) – to enhance and give the extra flavouring to the food along with a basket of pompadams..
Jhinga Nisha  – Grilled Prawns, which were not too bad or i must be hungry, cox i only remembered to take the picture after i had eaten two, just to be fair there are 6 in a platter @ 7.600 KD (yup that's right)
Burrah Chop – since I am always craving for the perfect Lamb chops – I ordered it first on the list .. but I thought the Masala (marinade) for the prawns and the Lamb was quite similar and not done upto my expectations… which can be high at times… 😉 @ KD 4.950
 Mahi Tikka Lasooni – Boneless Fried Fish Fillets, (lasooni means garlic flavoured) @ KD 5.850 – it could have been more Lasooni…
 Murg Rahra – I somehow assume one cannot go wrong with a chicken dish, but I guess I could not make a difference in Murg Rahra or was it Butter chicken with no taste, only color.. @ KD 4.200
 Lachcha Paratha and Pyaz Ka Kulcha – My Favourite – I love breads in any form or cuisine (hmnnn not too bad) @ KD 0.650 for each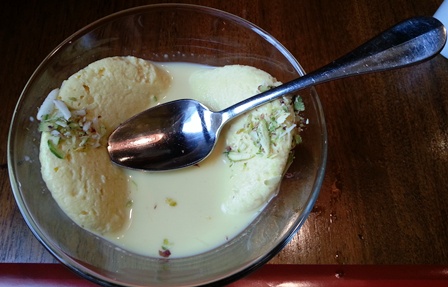 No meal is complete without the dessert – so why not order a Ras Malia ???? I thought i was chewing on a sponge cake…. @ KD 1.750
Masala tea @ KD 1.250 only difference i tasted salt in my masala chai
Blush on Ice @ KD 1.500 (lets say rose with 7-up)
Most refreshing drink (Water) Acquapanna @ KD 1.500